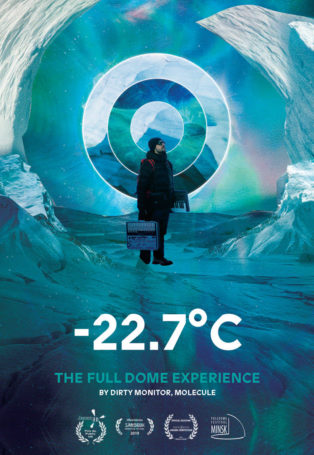 Download High Resolution Poster
-22.7°C
Dirty Monitor and SAT come together with Molecule in a collaboration between Belgium, France, and Canada in this immersive, fulldome musical journey.
Awards
2021
Belarus
Best Art Fulldome Film
Minsk International Festival
2022
USA
Juror's Choice Award
Dome Fest West
Description
An immersive experience inspired by the musician Molécule's adventures in the polar circle. French music producer Molécule is the pioneer of "nomadic electronic music." Following on from his debut album 60°43′ Nord, for which he spent 34 days on an Atlantic fishing trawler, he went to Greenland to make -22.7°C. Starting out from a remote Inuit village, he went on various trips to glaciers and fjords where he used his "survival elektrokit" to record environmental sounds such as howling wind, loud crackling deep in the Arctic ice, and the crunch of snow. He then processed the sounds and mixed them into beats.
The physicality of the music on Molécule's new album is reinforced in a unique and immersive fulldome live experience created by Dirty Monitor. The landscape we hear is like a living organism, and the experience is even more direct and realistic when it fully surrounds us. Sounds punch a hole through the veneer of reality and take us to another level, deep beneath the ice and up into the firmament, to feel the caress of the Northern Lights.
Winner of the Best Art Fulldome Film at the Minsk International Film Festival and the Juror's Choice Award at Dome Fest West, 2022. This production is also available for licensing with a live interactive component.
Distributors
You can get this show from:
Show details
Shorter version runtime
(if any)
:
30 minutes
Full version runtime:
37 minutes
Suitable for:
General audience
License:
Traditional license, Short-term license, Ticket share, Pay per view
Resource & materials:
Poster
Technical specifications
Video format:
Fulldome, Oculus Rift / VR devices
Show orientation:
Panoramic
Production technologies:
CG, Live action, Still photography, Audience interactivity, Live music, Time-lapse photography
Languages:
English, French
Screened at

0

dome theaters and counting...
Reviews
No reviews available.
Be the first to review this show!