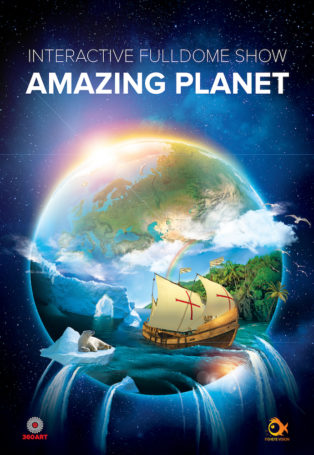 Download High Resolution Poster
Amazing Planet
Take part in this fulldome, interactive quiz and explore our Amazing Planet. A fulldome show for planetariums and digital dome theaters. Watch the video!
Release date:
October 2016
Directed by:
Description
Why is the Earth so various and amazing?
To get answers, join our interactive Quiz!
We'll journey from the mind-bending beauty of coral reef shallows to the deepest depths of the Mariana Trench. Climb the highest mountain peak – Everest. And fly over the largest river in the world – Amazon.
We'll take viewers on the visual ride of their lives, introducing to them our Amazing Planet in 4K!
A fulldome show for planetariums and digital dome theatres.
Distributors
You can get this show from:
Show details
Shorter version runtime
(if any)
:
not available
Full version runtime:
25 minutes
Suitable for:
General audience
License:
Traditional license, Pay per view
Resource & materials:
Guide for educators, Poster
Technical specifications
Show orientation:
Unidirectional
Production technologies:
CG, Time-lapse photography
Audio format:
Stereo, 5.1
Languages:
English, Russian
Screened at

0

dome theaters and counting...
Reviews
No reviews available.
Be the first to review this show!