Download High Resolution Poster
Capturing The Starlight: The Magnificent Telescopes
Capturing The Starlight: The Magnificent Telescopes is a 32-min show produced by Theofanis N. Matsopoulos for planetariums and digital dome theatres. Info, trailer & full preview available.
Release date:
January 2017
Awards
2017
Yaroslavl
Best Fulldome Cinematography
Russian Fulldome Festival
Description
Telescopes are high technology scientific instruments which collect light from distant celestial objects. With these noble instruments, humans managed to dive into the deep space and collect valuable scientific information about the formation, life and death of planets, stars and galaxies. All this knowledge helps us to understand how nature works in the large scale and determines our place in the magnificent Cosmos.
In this 30 min fulldome documentary, the Greek director Theofanis Matsopoulos, describes in a simple and understandable way, how telescopes work, their historical evolution and also travels the audience to some of the most important observatories in the world. The immersive experience of the documentary is breathtaking, due to the extensive use of real 4k fulldome video footage of the observatories and telescopes.
Distributors
You can get this show from:
Altair LLC
Theofanis N. Matsopoulos
RSA Cosmos
Show details
Shorter version runtime
(if any)
:
not available
Full version runtime:
32 minutes
Suitable for:
General audience
Target audience:
14 - 18, Adults
License:
Traditional license
Resource & materials:
Poster
Technical specifications
Resolution:
1K, 2K, 3K, 4K
Show orientation:
Unidirectional
Production technologies:
CG, Live action, Time-lapse photography
Audio format:
Stereo, 5.1
Languages:
English, Greek, Russian
Credits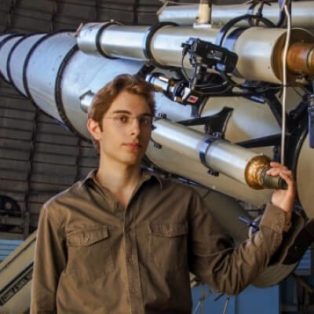 Director
Producer
Screened at

0

dome theaters and counting...
Reviews
No reviews available.
Be the first to review this show!