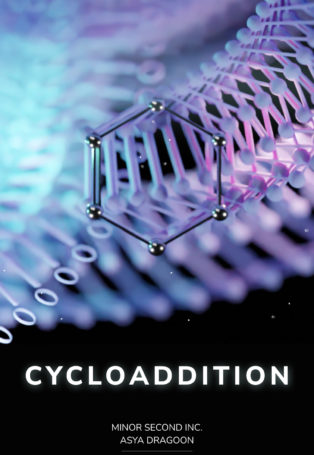 Download High Resolution Poster
Cycloaddition
This video is a symbiosis of music, science, and abstract art. It's a graphical scientific explanation of the reaction mixed with digital abstract art.
Release date:
October 2023
Produced by:
Directed by:
Description
This music video is a symbiosis of music, science and abstract art. We visualized a graphical scientific explanation of cycloaddition reaction and turned it into a piece of abstract digital art. We show all the stages of cycloaddition in a rhythm created by the music.
The music is composed by progressive metal musician Minor Second Inc.
Distributors
You can get this show from:
Show details
Shorter version runtime
(if any)
:
4 minutes
Full version runtime:
3 minutes
Suitable for:
General audience
License:
Traditional license, Short-term license, Pay per view
Resource & materials:
Poster, Source files
Technical specifications
Show orientation:
Unidirectional
Production technologies:
CG
Audio format:
Stereo, 5.1
Credits
Producer
Screened at

0

dome theaters and counting...
Reviews
No reviews available.
Be the first to review this show!