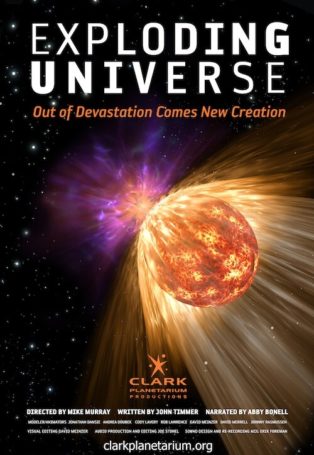 Download High Resolution Poster
Exploding Universe
Exploding Universe is a 30-min show produced by Clark Planetarium Productions for planetariums and digital dome theatres. Info, trailer & full preview available.
Release date:
January 2014
Directed by:
Description
Out of devastating events in the cosmos comes new creation. Explosive phenomena are responsible for the way we see the universe today, and not all of them happen on a grand scale.
When giant stars explode as "supernovas," they seed the galaxies with heavy elements that make planets and life possible. Some collisions we're only just now starting to understand. For example, when Black Holes collide, they can throw off some of the most energetic particles known, ripping and warping space as they go. But other "explosions" have profound effects as well, such as the beauty and power of supervolcanoes which have contributed to the transformation of our world into the life bearing oasis we now enjoy. The smallest of explosions, such as the forced impact of atoms, can echo the foundation events of the early universe.
As the universe has transformed into the structure we live in now, even the most elementary particles have endured. This show follows the path of one of these "particles," a proton, as it participates in nature's astounding events of rebirth and renewal.
Distributors
You can get this show from:
Fulldome Film Society
ZEISS
Clark Planetarium Productions
Audio Visual Imagineering
Show details
Shorter version runtime
(if any)
:
not available
Full version runtime:
30 minutes
Suitable for:
General audience
Target audience:
License:
Traditional license
Resource & materials:
Poster, DVD
Technical specifications
Video format:
Fulldome, Flat screen
Frame rate:
30 fps, 60 fps
Show orientation:
Unidirectional
Production technologies:
Audio format:
Stereo, 5.1
Screened at

1

dome theaters and counting...
Reviews
No reviews available.
Be the first to review this show!