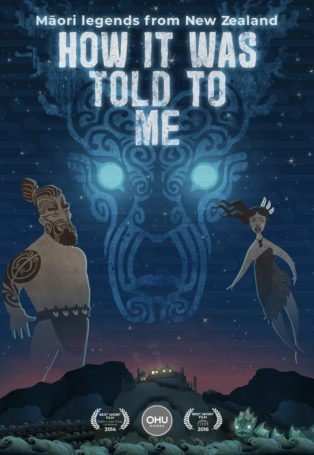 Download High Resolution Poster
HOW IT WAS TOLD TO ME: Maori Legends from New Zealand
Three theatrical fulldome short animations, which can be screened individually or showcased as a collection.
Awards
2014
Germany
Best Short Film
Digistar User Group Conference
2016
USA
Best Short Film
Fiske Fulldome Film Festival
2019
Russia
Short-Film Audience Award
Reflections of the Universe
2019
Belarus
Best Animated Show
Minsk International Fulldome Festival
2019
Germany
Extra Janus Award
Fulldome Film Festival
2020
Australia
Best Short Film
Dome Under Fulldome Festival
Description
HOW IT WAS TOLD TO ME: MĀORI LEGENDS FROM NEW ZEALAND, is a collection of three theatrical short animations which can be screened individually or showcased as a complete collection.
THE CREATION STORY tells the tale of Ranginui the Sky Father and Papatūanuku the Earth Mother, and their many children plotting to separate them.
In RONA AND THE MOON we learn how Marama, the Moon, came to look the way it does in our southern skies today.
THE GREAT WAKA tells of the creation of The Milky Way with all its constellations, and how they have been used through the ages to guide Polynesian sailors navigating the southern seas.
These award-winning theatrical animations were created by OHU Domes and feature recordings of traditional Māori instruments by Dr Richard Nunns, narration by Te Kohe Tuhaka, Tānea Heke, Rangimoana Taylor and sound design by Dylan Storey.
Distributors
You can get this show from:
Show details
Shorter version runtime
(if any)
:
5 minutes
Full version runtime:
17 minutes
Suitable for:
General audience
License:
Traditional license, Short-term license
Resource & materials:
Guide for educators, Poster, Source files
Technical specifications
Show orientation:
Panoramic
Production technologies:
CG
Audio format:
Stereo, 5.1
Screened at

0

dome theaters and counting...
Reviews
No reviews available.
Be the first to review this show!