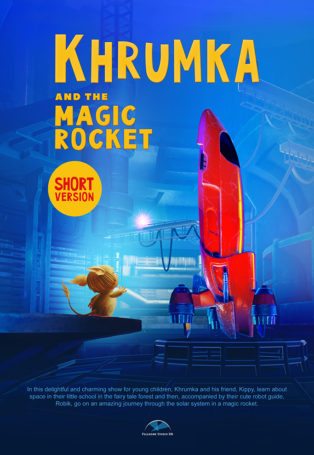 Download High Resolution Poster
Khrumka and the Magic Rocket (short)
In this fulldome show, Khrumka and his friend learn about space in the fairy tale forest and then go on an amazing space journey with a magic rocket.
Description
In this delightful and charming show for young children, Khrumka and his friend Kippy, learn about space in their little school in the fairy tail forest and then, accompanied by their cute robot guide, Robik, go on an amazing journey through the solar system in a magic rocket
This is the short version of the original 'Khrumka and the Magic Rocket' fulldome show for planetariums and digital dome theatres.
Distributors
You can get this show from:
GOTO INC.
Evans & Sutherland
RSA Cosmos
METASPACE
Fulldome Studio DN
Audio Visual Imagineering
Fulldome Studio DN
Show details
Shorter version runtime
(if any)
:
28 minutes
Full version runtime:
28 minutes
Suitable for:
General audience
License:
Traditional license
Resource & materials:
Poster
Technical specifications
Show orientation:
Panoramic
Production technologies:
CG
Languages:
English, German, Chinese, Italian, Japanese
Screened at

0

dome theaters and counting...
Reviews
No reviews available.
Be the first to review this show!