Download High Resolution Poster
Legendary Psychasthenia
Legendary Psychasthenia is a 4-min show for planetariums and digital dome theatres. Info, trailer & full preview available.
Description
Straight through the eye and into the brain. A place with no distinction and efficient imitation. Descend to the bottom and enter everywhere.
Legendary Psycasthenia (Alexander Hager 2014) is a fulldome morphing camouflage nebula of sticks, leaves, and mantids viewed on a 360-degree hemispherical screen. Raga Darbari was chosen to accompany the piece for its sedative qualities.
The audience is immediately launched through a tunnel, and lands on a forest floor. The forest floor's image is superimposed multiple times on itself, and wipes sweep across the screen. Stick mantids are imposed over the leaves.
A hand reaches across and touches the mantid. The mantid is slid off screen to make way for a canopy of sticks with mantids hiding on the branches.
The tempo of the music slows down as the branches fade out. The screen is overtaken by a pattern made of mantids reflected on the surface of water.
A pulsing autostereogram fades in as the sitar begins playing a strong resonant tone. This image is the answer to the question of if a bug were to be placed into an environment made up of only other mantids, how would that bug be camouflaged?
This culminates to its extreme as a swarm like image of particles fills the screen. The color palette has been taken from the mantid's exoskeleton. The particles transform themselves to form gradients on the screen. The sitar's playing has slowed down.
From this formless space, the audience is pulled through another tunnel. As the audience reaches the end of the tunnel, the metamorphosis is complete. The mantid's outward appearance has been re-re-re-reflected in a morphing shape.
Screened as part of CalArts Immersion Group's A Different Kind of Sky for the Vortex Immersion Dome.
A fulldome short film for planetariums and digital dome theatres.
Distributors
You can get this show from:
Show details
Shorter version runtime
(if any)
:
not available
Full version runtime:
4 minutes
Suitable for:
General audience
Target audience:
Resource & materials:
Source files
Technical specifications
Show orientation:
Panoramic
Production technologies:
CG, Green screen, Live action, Still photography, Stop motion
Credits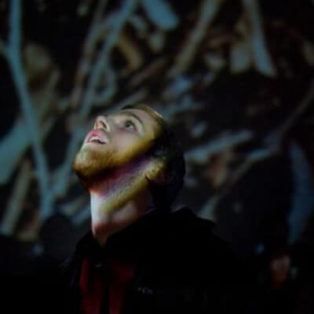 Director
Producer
Writer
Screened at

0

dome theaters and counting...
Reviews
No reviews available.
Be the first to review this show!