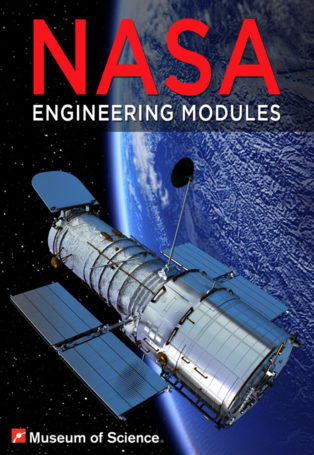 Download High Resolution Poster
NASA Engineering Modules
Includes 3 distinct educational modules, focusing on aspects of spacecraft engineering. Freely available.
Description
We are offering 3 distinct educational modules, focusing on aspects of spacecraft engineering, to anyone with a planetarium or classroom who would like to use them. They supplement, but are independent of our newest show 'From Dream to Discovery: Inside NASA' and are being shared free of charge.
Full previews of each module are available here.
Fixing the Hubble Space Telescope
This 8-minute video for fulldome theaters or classrooms explores the challenges and engineering behind the Hubble repair. It includes recorded narration and music and features the voice of astronaut Jeff Hoffman, one of the astronauts on Hubble's Servicing Mission 1 in 1993.
Gravity And Space Travel
This series of short (1-3 minute) clips for fulldome theaters or classrooms examines the use of gravity assists in space travel, and introduces audiences to the concepts of momentum and energy conservation. This module includes recorded narration and music but is designed to be flexible so that planetarians or teachers can opt to present portions of this content live, rather than using the full prerecorded clips.
Design a Mission
This bundle includes a series of visual sequences that can be used by a live Planetarium presenter and provides an opportunity to interact with visitors or students while exploring some of the basic steps in the engineering design process. Audiences or students will take an active role in selecting a mission and making spacecraft design choices and later learn whether their mission choices led to failure or success.
1k, 2k, or 4k download available –
Blueprint to Blastoff: Free Engineering Materials for the Planetarium or Classroom
Distributors
You can get this show from:
Show details
Shorter version runtime
(if any)
:
not available
Full version runtime:
24 minutes
Suitable for:
General audience
Target audience:
6 - 13, 14 - 18
Resource & materials:
Guide for educators, Poster, Source files, Blu-Ray
Technical specifications
Video format:
Fulldome, Flat screen
Show orientation:
Unidirectional
Production technologies:
CG, Live action, Still photography, Audience interactivity
Audio format:
Stereo, 5.1, Live performance
Screened at

1

dome theaters and counting...
Reviews
No reviews available.
Be the first to review this show!