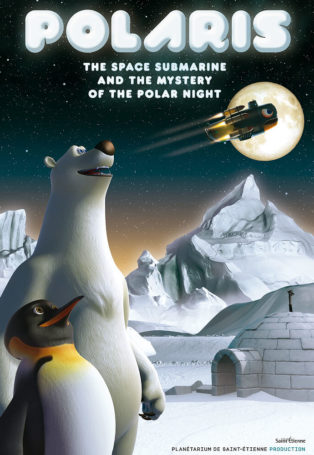 Download High Resolution Poster
Polaris, the Space Submarine & the Mystery of the Polar Night
"Polaris, the Space Submarine and the Mystery of the Polar Night" is a 29' show produced by Planetarium de Saint-Etienne. Info, trailer & full preview.
Release date:
February 2015
Awards
2015
Brno
AUDIENCE AWARD
Central European Fulldome Festival
2015
Yaroslavl
BEST POPULAR-SCIENCE FULLDOME SHOW
"Reflections of the Universe" Festival
2015
Koriyama
AUDIENCE CHOICE AWARD - 3RD PLACE
International Festival of Scientific Visualization
2015
Piestany
AUDIENCE AWARD
Astrofilm
2016
Gwacheon
MIRINAE AWARD FOR BEST FILM
International Planetarium Movie Festival
Description
James, a traveling penguin from the South Pole, and Vladimir, a funny bear from the North Pole, meet on the Arctic sea ice. They become friends, talk about their respective regions and observe the stars together, wondering why the night is so long at the poles of the Earth. Novice astronomers, they are trying to solve this mystery by reasoning and observation.
Thanks to the rigor of James and the inventive genius of Vladimir, their scientific adventure leads them to build an observatory and then an improvised spaceship. During a trip around the Earth, extended to Mars and Saturn, they get their answer and discover that the planets have similarities but also differences.
A fulldome show for planetariums and digital dome theatres.
Distributors
You can get this show from:
GOTO INC.
METASPACE
RSA Cosmos
Show details
Shorter version runtime
(if any)
:
not available
Full version runtime:
29 minutes
Suitable for:
General audience
License:
Traditional license
Resource & materials:
Guide for educators, Poster
Technical specifications
Resolution:
1K, 2K, 3K, 4K
Frame rate:
24 fps, 25 fps, 29.97 fps, 30 fps
Show orientation:
Unidirectional
Production technologies:
CG
Audio format:
Mono, Stereo, 5.1
Languages:
English, Catalan, Czech, Dutch, French, Japanese, Norvegian, Polish, Russian, Spanish, Turkish, Others, Ukrainian
Screened at

15

dome theaters and counting...