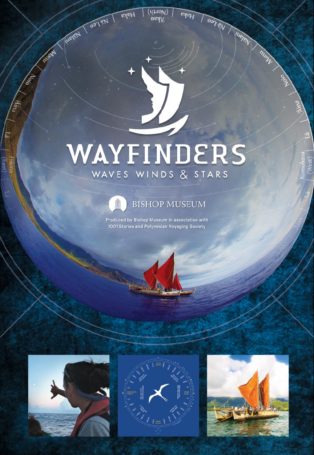 Download High Resolution Poster
Wayfinders: Waves, Winds, and Stars
A live-action fulldome film that tells the 5,000 year story of voyaging in the Pacific and teaches non-instrument celestial navigation techniques.
Description
This live-action fulldome program puts you on the deck of the voyaging canoe Hōkūleʻa as you explore traditional Polynesian navigation. Learn how to read the stars and interpret the winds and waves to navigate without modern instruments. The film tells the story of the Polynesian Voyaging Society and the recovery of the nearly lost art and science of traditional, non-instrument navigation in Hawaii.
The film stands on its own as a 25-minute show but can be extended to an hour by integrating live, instructor-led elements to immerse the audience in an interactive learning experience. The first two live segments build to the third: a virtual trip from Hawaii to Tahiti and back with the audience determining when they have returned to Hawaii.
This film was produced in Hawaii by Bishop Museum and 1001 Stories in collaboration with the Polynesian Voyaging Society. A fulldome show for planetariums and digital dome theatres
Distributors
You can get this show from:
Loch Ness Productions
Bishop Museum
Show details
Shorter version runtime
(if any)
:
25 minutes
Full version runtime:
55 minutes
Suitable for:
General audience
Target audience:
6 - 13, 14 - 18, Adults
License:
Traditional license, Short-term license
Resource & materials:
Guide for educators
Technical specifications
Show orientation:
Unidirectional
Production technologies:
CG, Live action, Audience interactivity
Audio format:
Stereo, 5.1, Live performance
Screened at

1

dome theaters and counting...
Reviews
No reviews available.
Be the first to review this show!