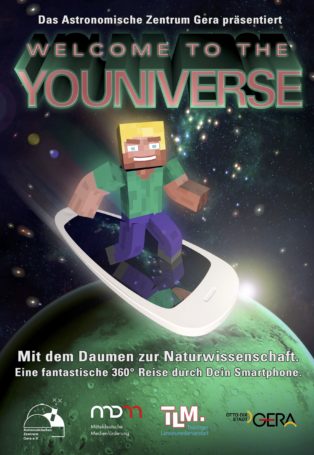 Download High Resolution Poster
Welcome to the Youniverse, With Your Thumb to Science
a fantastic science journey through your smartphone. With a story in a relaxed and youth-friendly way.
Produced by:
Directed by:
Description
Welcome to the Youniverse, with your thumb to science, a fantastic 360° journey through your smartphone.
Career orientation is currently one of the most important buzzwords in education. In the future, business and science will need more and more highly qualified specialists in order to be able to withstand the increasing pressure to innovate.
The basic situation for this is to create an interest in natural science subjects for pupils as early as possible and to give them an outlook on what they can achieve with these subjects. But how do you get the thumb-moving smartphone generation to approach this topic without the "boring Alder", "mega out and embarrassing" whispering through the dome of the planetarium?
Clearly! With a story about a smartphone, which is told right through this fascinating technology.
A fulldome show for planetariums and digital dome theatres.
Distributors
You can get this show from:
Show details
Shorter version runtime
(if any)
:
16 minutes
Full version runtime:
25 minutes
Target audience:
6 - 13, 14 - 18, Adults
License:
Traditional license
Resource & materials:
Poster
Technical specifications
Show orientation:
Panoramic
Production technologies:
Languages:
English, German
Credits
Producer
Media artist
Screened at

0

dome theaters and counting...
Reviews
No reviews available.
Be the first to review this show!