World Premiere of Fulldome Show "Ningaloo" on Dec. 28th, 2018
The first of eight new, live-action underwater shows in 4K for fulldome theaters and planetariums worldwide was announced today by production company Prospero Productions of Fremantle, Western Australia and BIG & Digital. "We are excited to be distributing this series with Prospero. The immersive setting and 4K underwater footage will be a new and exciting experience for audiences," said Tina Ratterman, Founder of BIG & Digital.
Ningaloo: Australia's Other Great Reef will reveal the intimate secrets of the world's largest and relatively unexplored fringing reef during its world premiere at the Western Australian Maritime Museum in Fremantle, Australia on December 29, 2018.
"Ningaloo Reef may be smaller than Great Barrier Reef, but it's just as important. Our visually stunning, story-driven film about this underwater wonderland will help everyone understand the Reef's pristine nature and scientific value," comments Ed Punchard, Producer and Joint Managing Director of Prospero Productions, who is also a qualified maritime archaeologist. "The sea has always drawn us as filmmakers. It holds so many great stories and the Ningaloo Reef is just one of them," added Prospero's other Managing Director, Julia Redwood.
"Fulldome allows us to immerse our audience in that world and transport them to this place they may never otherwise get the chance to experience."
Audiences will ride along on a magical expedition through this maze of coral reefs as they join researchers aboard the two-person submarine, Odyssea. The Ningaloo Reef is a vast coral highway stretching along the Northwest coast of Western Australia. So large it can be viewed from outer space, this rich ecosystem also attracts both the largest fish on the planet (whale shark), and some of its smallest.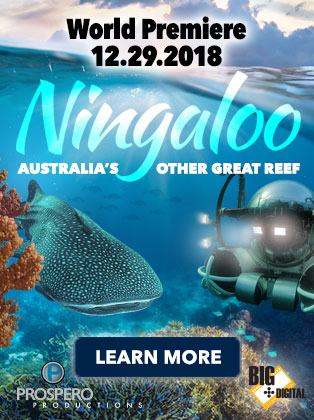 Thanks to the clarity of images provided by RED Weapon Brain cameras with Helium 8K sensors, viewers will be surrounded by one of our planet's greatest natural events. One night each year, driven by the March full moon, the entire coral reef spawns in mass synchrony – a dazzling and psychedelic midnight phenomenon. The adventure culminates with the arrival of larger-than-life, annual visitors to the reef. Audiences will get to meander through the reef's turquoise waters side by side with whale sharks, the majestic gentle giant of this underwater paradise.
To bring this amazing story to life for fulldome audiences, Prospero enlisted the help of Director Russell Vines, who has worked with them on several award-winning box office hits including SAS: The Search for Warriors, Heartbreak Science, Eco House Challenge, Navy Divers and Australia – Life on the Edge. "I'm so excited to be working on this ambitious, ground-breaking project. To create live-action films for the fulldome industry is a huge thrill. And to do it with a submarine is just awesome!" stated Vines.
The Show will be released in 45 and 25 minute run times with 4K Resolution at 30 fps. Distribution and leasing information is available from BIG & Digital. Contact: info@biganddigital.com or +1 702-932-4045.
The films are produced by one of Australia's leading factual production companies, Prospero Productions. Based in Fremantle, Western Australia, Prospero has over 25 years of experience, with over $100million worth of production and over 255 hours of television production to its name. It is highly regarded in the screen industry both in Australia and internationally known for producing award-winning, high quality and entertaining programming.
Have you liked this post? Subscribe to FDDB Newsletter
Comments
This is a friendly community,
be nice
Don't be too commercial,
nor spammy
Start the experience!
Not yet registered?
Sign up now, it's free!