About me
He has organized the first full dome festival for locals in México, and presented his music work at festivals like the International Forum of New Music Manuel Enriquez in the years 2010, 11, 12 and 13; EMU International Electroacoustic Music Fest Santa Cecilia Conservatory in Italy in 2009, 10 and 11; NYCEMF 2013 - The New York City Electroacoustic Music Festival; The International Workshop on Computer Music and Audio Technology Taiwan - WOCMAT 2010 and 2012; Electroacoustic Spring Festival of Valencia, Spain. 2010; Spring Festival Electroacoustic Havana, Cuba. 2010; 2aBienal Composition from the University of Cordoba, Argentina, 2012; Humanities, Arts and Technology Festival, 2010 University of North Carolina, USA and many more.
Events I've been at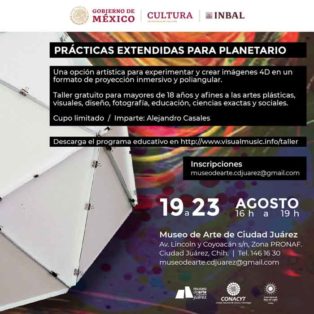 My News & Articles
Call for Fulldome Film Submissions: Video Art or Visual Music pieces, with any techniques, concepts and ideas. Deadline: May 20th, 2018.
Call for Works for the 3rd Visual Music Fulldome Festival in Mexico. Deadline for submission: Oct 10th, 2017.