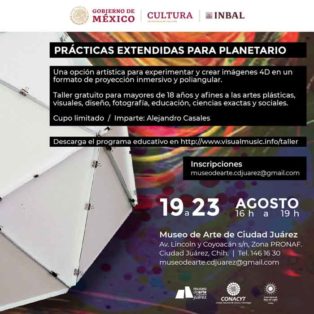 Extended Practices for Planetariums
Cd Juárez, Chih., Mexico
An artistic workshop to experiment and create fulldome content for planetariums. August 19-23, 2019 in Cd Juárez, Chih, Mexico.
Start date:
August 19
2019
Description
The activity is presented as an artistic project to experiment and create content for fulldome.
The workshop will approach the production of fulldome content from scratch to the final works developed during the sessions.
Event details
Organizer(s):
Alejandro Casales
Venue:
Museo de Arte de Ciudad Juárez
Address:
Av. Lincoln y Coyoacan s/n , Zona Pronaf.
People attending the event