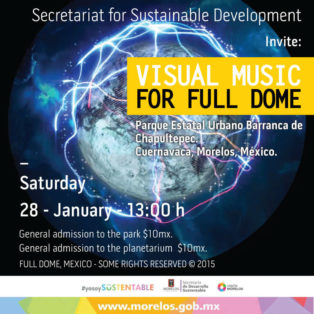 Visual Music for Full Dome
, Mexico
Start date:
January 28
2017
End date:
January 28
2017
Description
Secretariat for Sustainable Development
Invite:
VISUAL MUSIC FOR FULL DOME
Saturday
28 – January 2017- 13:00 h
General admission to the park $10mx.
General admission to the planetarium $10mx.
Event details
Organizer(s):
Fulld Dome México
Venue:
Parque Estatal Urbano Barranca de Chapultepec.
Address:
Bajada de Chapultepec 27, Chapultepec, 62450. Morelos, México.
Postal code:
City:
People attending the event