Download High Resolution Poster
An Immortal Telescope: The Story of R.S. Newall Refractor
An Immortal Telescope: The Story of R.S. Newall Refractor is a 25-min show produced by Theofanis N. Matsopoulos for planetariums and digital dome theatres. Info, trailer & full preview available.
Release date:
January 2016
Description
The astronomical telescopes were always impressive scientific instruments. With them humans discovered all the modern knowledge about the universe.
This 25 min fulldome show is dedicated to the once largest refracting telescope. Made by Cooke & sons in 1869. The famous Newall telescope had many ups and downs in its life but it is still alive and active at Athens Observatory 147 years after its birth.
The show refers to the value of the old astronomical instruments and travels the audience through the fascinating history of the Newall telescope, from its construction up to now with the use of immersive visualizations and live action footage.
Credits:
Director – Theofanis Matsopoulos
Original Music – Konstantino Polizois
Script – Nicolas Matsopoulos
Planetarium Production – Theofanis Matsopoulos
For planetariums and digital dome theatres.
Distributors
You can get this show from:
Show details
Shorter version runtime
(if any)
:
not available
Full version runtime:
25 minutes
Suitable for:
General audience
Target audience:
14 - 18, Adults
License:
Traditional license
Resource & materials:
Poster, Blu-Ray
Technical specifications
Resolution:
1K, 2K, 3K, 4K
Show orientation:
Unidirectional
Production technologies:
CG, Live action, Still photography, Time-lapse photography
Audio format:
Stereo, 5.1
Languages:
English, Greek
Credits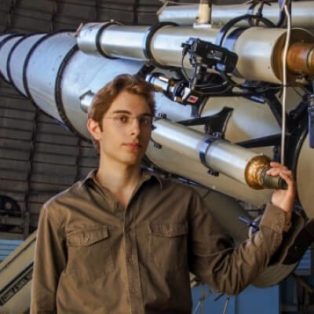 Director
Producer
Soundtrack composer
Sound editing
Screened at

0

dome theaters and counting...
Reviews
No reviews available.
Be the first to review this show!