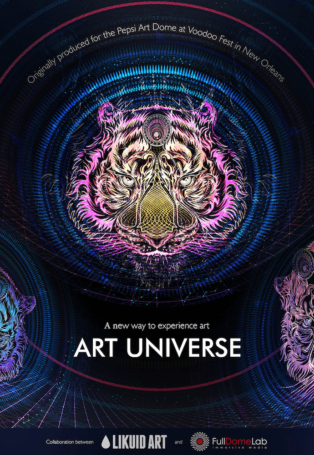 Download High Resolution Poster
Art Universe
Art Universe is a 18-min show for planetariums and digital dome theatres. Info, trailer & full preview available.
Release date:
October 2015
Produced by:
Directed by:
Description
Originally produced for the Pepsi Art Dome at Voodoo Fest 2015 in New Orleans, Art Universe piece is a collaboration between artists and animators at Likuid Art and FullDomeLab.
This stunning, immersive piece, featuring original score and sound design, showcases work by artists from Likuid Art's growing online subscription-based art repository.
Conceived of and directed by the Likuid Art creative team of David Gardner and Chris Saunders, it presents a new way to experience art.
Distributors
You can get this show from:
Show details
Shorter version runtime
(if any)
:
not available
Full version runtime:
18 minutes
Suitable for:
General audience
Target audience:
14 - 18, Adults
License:
Traditional license
Resource & materials:
Technical specifications
Show orientation:
Unidirectional
Production technologies:
CG
Screened at

0

dome theaters and counting...
Reviews
No reviews available.
Be the first to review this show!