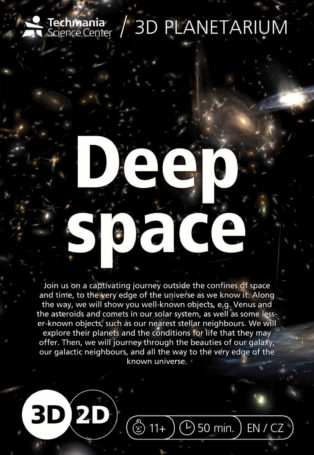 Download High Resolution Poster
Deep Space
Deep Space is a 50-min show produced by 3D Planetarium Techmania Science Center for planetariums and digital dome theatres. Info, trailer & full preview available.
Release date:
November 2014
Description
Join us on a captivating journey outside the confines of space and time. Along the way, we will show you well-known objects, e.g. Venus and the asteroids and comets in our solar system, as well as some lesser-known objects, such as our nearest stellar neighbours.
We will journey through the beauties of our galaxy, our galactic neighbours, and all the way to the very edge of the known universe.
Distributors
You can get this show from:
Show details
Shorter version runtime
(if any)
:
not available
Full version runtime:
50 minutes
Suitable for:
General audience
Target audience:
6 - 13, 14 - 18, Adults
License:
Traditional license
Resource & materials:
Poster
Technical specifications
Show orientation:
Panoramic
Production technologies:
CG
Languages:
English, Czech
Credits
Director
Producer
Writer
Screened at

0

dome theaters and counting...
Reviews
No reviews available.
Be the first to review this show!