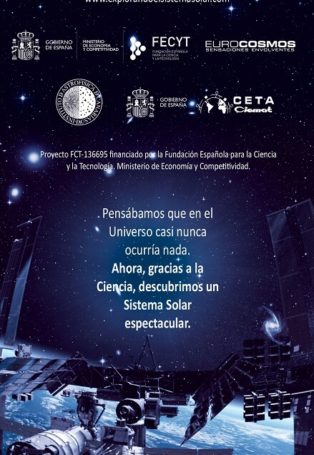 Download High Resolution Poster
Explorando el Sistema Solar
Explorando el Sistema Solar is a 20-min show for planetariums and digital dome theatres. Info, trailer & full preview available.
Release date:
September 2014
Produced by:
Directed by:
Description
Esta proyección plantea una forma alternativa y eficaz de divulgar ciencia, transportando a los oyentes en un viaje extraordinario a distintos escenarios del Sistema Solar interior para que ellos mismos "vean" y "sientan" en primera persona el entorno más cercano a nuestro planeta. "Explorando el Sistema Solar" consigue despertar la curiosidad del público para entender y apreciar aspectos de cuerpos como la Luna, Venus, Marte, asteroides y cometas, hasta ahora desconocidos para la gran mayoría, y que aún no han sido mostrados en otros documentales de astronomía.
Se ofrecen 6 montajes distintos de la misma película, cuatro de ellos con locución y adaptadas sus secuencias a distintos grupos de edad a partir de 6 años, y otros dos montajes sin locución que permiten la intervención de un animador o astrónomo durante la proyección.
Se ofrece la posibilidad de traducir sin coste a otros idiomas oficiales de la Unión Europea, previa solicitud de al menos dos instituciones independientes entre sí. Igualmente, se facilitan los ficheros de audio sin narración para que el exhibidor pueda asumir la traducción de las locuciones a otros idiomas, si así lo desea.
Distributors
You can get this show from:
Show details
Shorter version runtime
(if any)
:
5 minutes
Full version runtime:
20 minutes
Suitable for:
General audience
Target audience:
6 - 13, 14 - 18, Adults
Resource & materials:
Poster, Source files
Technical specifications
Resolution:
1K, 2K, 3K, 4K, 8K
Show orientation:
Panoramic
Production technologies:
CG
Languages:
No Narration, Spanish
Screened at

0

dome theaters and counting...