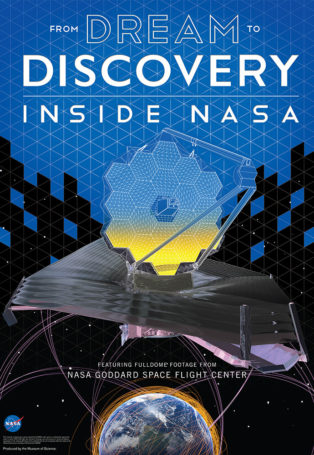 Download High Resolution Poster
From Dream to Discovery: Inside NASA
Release date:
December 2014
Directed by:
Awards
2015
Espinho, Portugal
Best Immersion
Immersive Film Festival
2016
Boston, MA
Finalist in Immersive Cinema
Jackson Hole Science Media Awards
Description
Journey from NASA's test facilities all the way to Pluto and experience the excitement of today's space missions.
Immerse yourself in the adventures and extremes of spacecraft engineering—from the design of missions like the James Webb Space Telescope and New Horizons, to the rigors of testing, launch, and space operations.
When humans dare to dream, we create truly amazing things.
Distributors
You can get this show from:
Spitz Creative Media
Loch Ness Productions
Sciss
Sky-Skan
Show details
Shorter version runtime
(if any)
:
24 minutes
Full version runtime:
30 minutes
Suitable for:
General audience
Target audience:
6 - 13, 14 - 18, Adults
License:
Traditional license, Short-term license
Resource & materials:
Guide for educators, Poster
Technical specifications
Video format:
Fulldome, Flat screen
Show orientation:
Panoramic
Production technologies:
CG, Live action
Audio format:
Stereo, 5.1
Languages:
English, French
Screened at

0

dome theaters and counting...
Reviews
No reviews available.
Be the first to review this show!