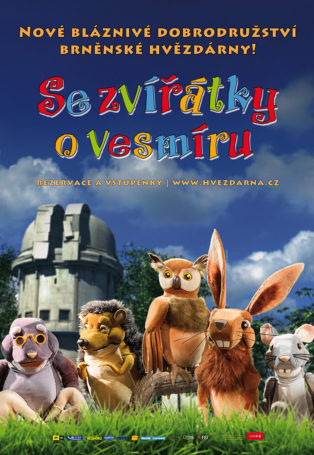 Download High Resolution Poster
Furry Astronauts
Furry Astronauts is a 25-min show produced by Brno Observatory and Planetarium for planetariums and digital dome theatres. Info, trailer & full preview available.
Release date:
January 2015
Directed by:
Description
What are those strange fire arrows rising into the heavens? Join the four animals on their crazy adventure from the production of Brno Observatory and Planetarium.
The show is a unique combination of hand-made puppets and virtual CGI world which will take you to a dream world of one forgotten spaceport. And with a blink of an eye, you will find yourselves in the space!
English version on demand.
Distributors
You can get this show from:
Brno Observatory and Planetarium
Show details
Shorter version runtime
(if any)
:
not available
Full version runtime:
25 minutes
Suitable for:
General audience
Target audience:
0 - 5, 6 - 13, 14 - 18, Adults
License:
Traditional license
Resource & materials:
Poster, Source files
Technical specifications
Show orientation:
Unidirectional
Production technologies:
CG, Green screen
Screened at

0

dome theaters and counting...
Reviews
No reviews available.
Be the first to review this show!