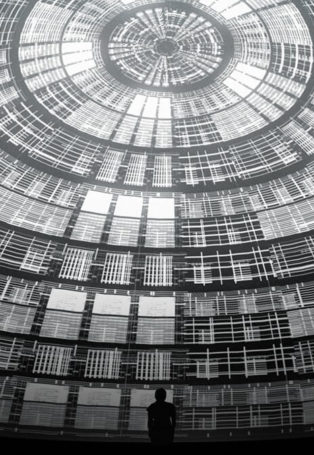 Download High Resolution Poster
H OM E OMOR PH ISM
H OM E OMOR PH ISM is a 5-min show produced by Society for Arts and Technology [SAT] for planetariums and digital dome theatres. Info, trailer & full preview available.
Description
A homeomorphism, also called a continuous transformation, is an equivalence relation and one-to-one correspondence between points in two geometric figures or topological spaces that is continuous in both directions.
Many forms observed in nature can be related to geometry. In accordance with classical geometry, the shapes that found in nature are consisting of lines and planes, circles and spheres, triangles and cones. These shapes actually are a powerful abstraction of reality, so we need primitive objects to give a form and understand the complex structure that exists in nature.
In H OM E OMOR PH ISM Dome A/V Performance, our starting point was topography and primitive object's pertinent points of overlap. The inspiration comes from the extreme diversity of New Mexico's landforms (which is divided into four regions; Great Plains, Rocky Mountains, Colorado Plateau, Basin and Range Province), general changes of topography and homeomorphism.
In collaboration with:
IAIA | Institute of American Indian Arts in New Mexico, USA
CERN, The European Organization for Nuclear Research, Geneva, Switzerland
SAT, Société des arts technologiques [SAT], Montreal, Canada
Distributors
You can get this show from:
Show details
Shorter version runtime
(if any)
:
not available
Full version runtime:
5 minutes
Suitable for:
General audience
Target audience:
License:
Traditional license
Resource & materials:
Technical specifications
Show orientation:
Unidirectional
Screened at

0

dome theaters and counting...
Reviews
No reviews available.
Be the first to review this show!