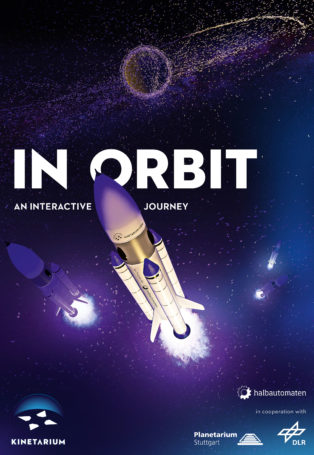 Download High Resolution Poster
Kinetarium – In Orbit
We invite you on an fulldome interactive expedition: What's orbiting above our heads? And what does space debris have to do with lasers?
Release date:
August 2020
Directed by:
Awards
2021
Germany
IMMERSIVE SCIENCE
SILBERSALZ Science & Media Award
2021
Germany
Best 360-Degree Film
Horsetooth International Film Festival
Description
Together, we depart on a journey around earth's orbit. We discover how mankind began to explore space and learn how many everyday applications satellites have today. But what happens to the satellites when they stop working properly? The answer is as simple as it is problematic: they remain in their orbit.
These useless satellites — i.e. defective or technically obsolete ones — are an alarming sight. Over the years, several thousand of these have accumulated, along with fragments or debris from collisions, burned-out rocket stages, empty fuel tanks and other junk left behind during space missions. They form a belt of debris around earth, making space travel increasingly hazardous.
By integrating live data into our projection, you can see how many objects are actually buzzing over our heads at any given time. You can not only witness this as a viewer, but experience it for yourself: the cluttered orbit makes it increasingly difficult to steer your own spaceship and avoid collisions in the process.
"In Orbit – An interactive journey" is a planetarium show based on a new technology called "Kinetarium". With the help of planetariums we are able to discover distant worlds and galaxies. Their domes make it possible that we fully immerse ourselves in the projection, just as if we were right in the middle of things. Up until now visitors were mostly passive observers of scripted shows.
———
With Kinetarium, we're introducing interactivity and gamification. Everyone in the audience can participate in the show. Together, you can go on missions, solve puzzles and discover new worlds. Or simply try to crack the high score. The planetarium becomes a platform for gaming and learning together. Kinetarium offers immersive, interactive experiences for groups and enables completely new event formats.
Distributors
You can get this show from:
Show details
Shorter version runtime
(if any)
:
not available
Full version runtime:
40 minutes
Suitable for:
General audience
Target audience:
14 - 18, Adults
License:
Short-term license
Resource & materials:
Poster, Source files
Technical specifications
Show orientation:
Panoramic
Production technologies:
CG, Audience interactivity
Languages:
English, German
Screened at

3

dome theaters and counting...
Reviews
No reviews available.
Be the first to review this show!