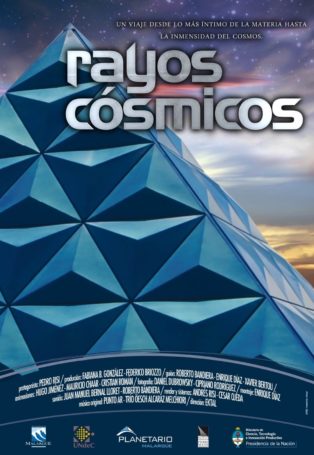 Download High Resolution Poster
Cosmic Rays - Rayos Cósmicos
Cosmic Rays - Rayos Cósmicos is a 24-min show produced by Planetario Malargue for planetariums and digital dome theatres. Info, trailer & full preview available.
Release date:
August 2012
Directed by:
Description
Cosmic Rays ("Rayos Cósmicos") tells the history of current theories about cosmic rays, a journey from the depths of matter to the vastness of the Cosmos.
A fulldome show for planetariums and digital dome theaters.
Info, trailer and full-length preview available.
Distributors
You can get this show from:
Geodomes Alquiler Domos Geodésicos
Show details
Shorter version runtime
(if any)
:
not available
Full version runtime:
24 minutes
Suitable for:
General audience
Target audience:
14 - 18, Adults
Resource & materials:
Poster, Source files
Technical specifications
Show orientation:
Unidirectional
Production technologies:
CG, Green screen, Live music, Time-lapse photography
Languages:
English, Spanish
Screened at

1

dome theaters and counting...
Reviews
No reviews available.
Be the first to review this show!