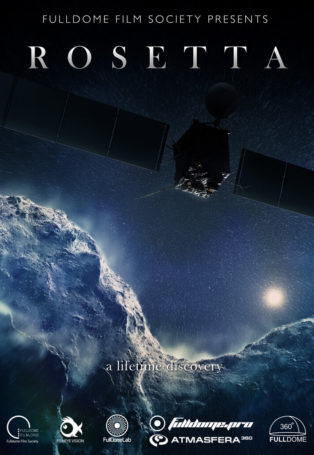 Download High Resolution Poster
Rosetta
Rosetta is a 23-min show produced by Fulldome Film Society for planetariums and digital dome theatres. Info, trailer & full preview available.
Release date:
February 2016
Directed by:
Awards
2019
Belarus
Audience Award
Minsk International Fulldome Festival
Description
Fulldome Film Society together with Kiev Planetarium and Atmasfera360 Center are proud to present the unique fulldome show dedicated to a breakthrough discovery and space mission to the core of the comet 67P.
Join the comet discoverer Klim Churyumov in the story about the origins of the Solar System and life on Earth. Meet the challenges of a 10 year long mission with Rosetta spacecraft and the "Philae" lander. Become the first one to find oneself on the comet surface!
Rosetta fulldome show is distributed worldwide under a free limited performance license!
Distributors
You can get this show from:
Show details
Shorter version runtime
(if any)
:
not available
Full version runtime:
23 minutes
Suitable for:
General audience
Target audience:
6 - 13, 14 - 18, Adults
Resource & materials:
Guide for educators, Poster
Technical specifications
Resolution:
1K, 2K, 3K, 4K
Show orientation:
Unidirectional
Production technologies:
CG, Green screen, Live action
Languages:
English, German, Chinese, Czech, French, Greek, Japanese, Polish, Russian, Spanish, Thai, Others
Credits
Producer
Writer
Screened at

2

dome theaters and counting...
Reviews
No reviews available.
Be the first to review this show!