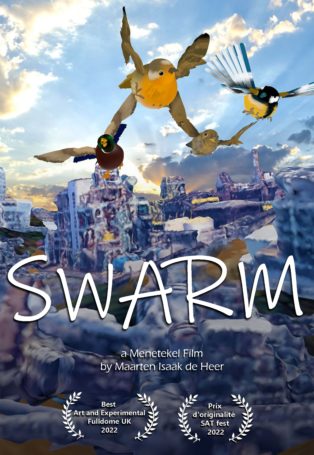 Download High Resolution Poster
Swarm
Swarming is a behavioral phenomenon to survive, but more than often, it is a prelude for extinction.
Release date:
February 2022
Awards
2022
Canada
Prix d'originalité
SAT Fest
2022
England
Best Art & Experimental
Fulldome UK
2022
Netherlands
Best VR
KABOOM Animation Festival
Description
Swarming is a behavioural phenomenon to survive, but more than often, it is a prelude to extinction.
Fly with the flock as they travel from Germany, over the Alps, to the Mediterranean Sea. Small birds migrate over exhausted and exploited landscapes. Robins, tits and sparrows do not usually migrate this far, but in a near future, they might.
Swarm offers a bird's eye view over landscapes of three-dimensional photocollages that show a part of Europe after climate change.
Animated in VR: Quill. Photogrammetry models scanned from Google Earth.
Distributors
You can get this show from:
Show details
Shorter version runtime
(if any)
:
10 minutes
Full version runtime:
14 minutes
Suitable for:
General audience
License:
Short-term license
Resource & materials:
Poster
Technical specifications
Show orientation:
Unidirectional
Production technologies:
CG
Credits
Director
Screened at

6

dome theaters and counting...
Reviews
No reviews available.
Be the first to review this show!