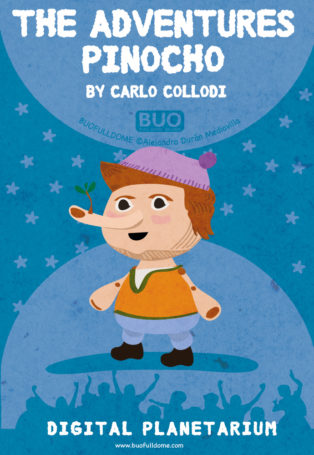 Download High Resolution Poster
The Adventures of Pinocchio
The Adventures of Pinocchio is a fulldome show adapting the classic tale of Pinocchio to the planetarium medium. Info and full preview available.
Produced by:
Directed by:
Description
Adaptation of the children story "The Adventures of Pinocchio."
Following the basic structure of this classic, the story becomes educational and lets children become familiar with the concepts of seasons, cardinal points, constellations, the North Star.
The story is fun, interactive and dynamic and it even includes a tour of the seabed.
"The Adventures of Pinocchio" is a fulldome show for planetariums and digital dome theatres.
Distributors
You can get this show from:
Show details
Shorter version runtime
(if any)
:
not available
Full version runtime:
20 minutes
Suitable for:
General audience
Target audience:
0 - 5, 6 - 13
License:
Traditional license
Resource & materials:
Poster
Technical specifications
Resolution:
1K, 2K, 3K, 4K
Show orientation:
Unidirectional
Production technologies:
Stop motion
Languages:
English, Spanish
Screened at

0

dome theaters and counting...
Reviews
No reviews available.
Be the first to review this show!