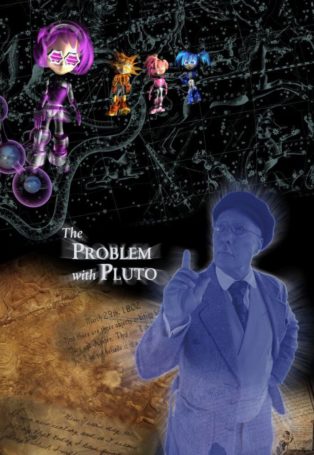 Download High Resolution Poster
The Problem with Pluto
The Problem with Pluto is a 29-min show produced by Melbourne Planetarium – Scienceworks – Museum Victoria for planetariums and digital dome theatres. Info, trailer & full preview available.
Description
Through the experiences of the intrepid character Lucy Leavitt, we are taken on a fulldome journey to examine the question "When is a planet not a planet?"
This question is posed by Lucy, who, along with her scientist mother Lillian, is on board a research craft heading to the outer limits of the Solar System. This trip is to gain data to silence recent debate
questioning Pluto's status as a planet.
We examine some of the new information about our Solar System and discuss how Pluto is different to the other planets in the Solar System. We investigate where Pluto belongs in the overall structure of the Solar System and highlight the difficulties of defining what makes a planet.
Distributors
You can get this show from:
Show details
Shorter version runtime
(if any)
:
not available
Full version runtime:
29 minutes
Suitable for:
General audience
License:
Traditional license
Resource & materials:
Poster
Technical specifications
Show orientation:
Unidirectional
Production technologies:
CG, Green screen, Live action
Audio format:
Stereo, 5.1
Screened at

0

dome theaters and counting...
Reviews
No reviews available.
Be the first to review this show!