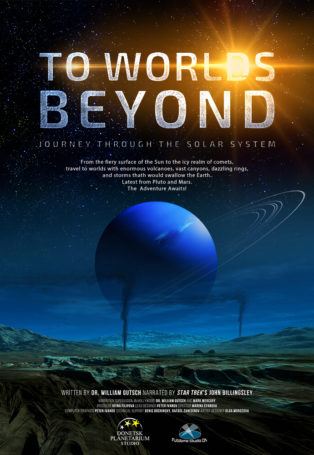 Download High Resolution Poster
To Worlds Beyond - Journey Through The Solar System
To Worlds Beyond - Journey Through The Solar System is a 28-min show produced by Fulldome Studio DN for planetariums and digital dome theatres. Info, trailer & full preview available.
Release date:
January 2016
Description
From the fiery surface of the Sun to the icy realm of comets, travel to worlds with enormous volcanoes, vast canyons, dazzling rings, and storms that would swallow the Earth. Learn more about Mars and Pluto too!
A fulldome show for planetariums and digital dome theatres.
Distributors
You can get this show from:
Fulldome Studio DN
REQUEST PRICING
Fulldome Film Society
Audio Visual Imagineering
RSA Cosmos
Evans & Sutherland
Fulldome Studio DN
Fulldome Studio DN
Fulldome Studio DN
ZEISS
Show details
Shorter version runtime
(if any)
:
not available
Full version runtime:
28 minutes
Suitable for:
General audience
Target audience:
6 - 13, 14 - 18, Adults
License:
Traditional license, Short-term license
Resource & materials:
Poster
Technical specifications
Video format:
Fulldome, Spherical mirror projection
Resolution:
1K, 2K, 3K, 4K
Show orientation:
Unidirectional
Production technologies:
CG
Languages:
English, Russian
Credits
Director
Screened at

0

dome theaters and counting...