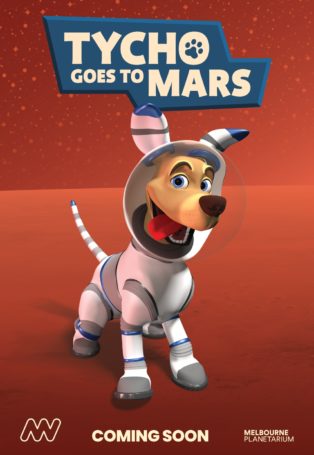 Download High Resolution Poster
Tycho Goes to Mars
Tycho is back! Everyone's favourite cheeky dog is blasting off again but this time to discover the red planet, Mars.
Release date:
September 2021
Directed by:
Description
Finding his way back home is not going to be easy. But if anyone can do it, Tycho can.
Join Tycho, a dog that has a knack for getting into trouble, on his latest adventure as he discovers Mars up-close. See an ancient volcano, a gigantic canyon and help Tycho search for water to power his kennel back home. But how will he find water on Mars when it looks so cold, dusty and dry?
Suitable for ages 3 to 8 years old.
This fulldome show is still in production and will be released in fall 2021.
Distributors
You can get this show from:
Show details
Shorter version runtime
(if any)
:
not available
Full version runtime:
27 minutes
Suitable for:
General audience
Target audience:
0 - 5, 6 - 13
License:
Traditional license, Short-term license
Resource & materials:
Poster, Source files
Technical specifications
Show orientation:
Unidirectional
Production technologies:
CG
Screened at

0

dome theaters and counting...
Reviews
No reviews available.
Be the first to review this show!