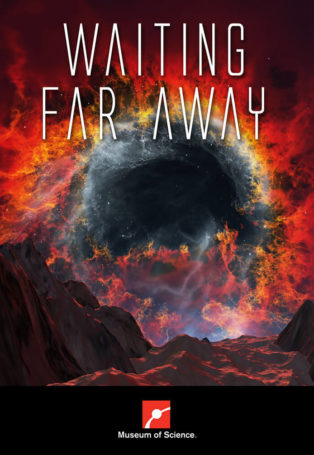 Download High Resolution Poster
Waiting Far Away
Waiting Far Away is a 11-min show produced by Charles Hayden Planetarium for planetariums and digital dome theatres. Info, trailer & full preview available.
Description
An explorer of the cosmos has traveled too far… And can't find home. Follow in the footsteps of a cosmic traveler as he shares a wild story. Find out what grand mysteries he has uncovered while journeying deep into intergalactic space, searching…
In the creative process of producing planetarium shows, we often come across imagery that is stunning but doesn't work in the context of a science show. And so our collection of fulldome astronomy art animations has matured into a hybrid form of storytelling where we mix imagination with real data.
Distributors
You can get this show from:
Show details
Shorter version runtime
(if any)
:
not available
Full version runtime:
11 minutes
Suitable for:
General audience
Target audience:
14 - 18, Adults
Resource & materials:
Poster
Technical specifications
Show orientation:
Unidirectional
Production technologies:
CG
Audio format:
Stereo, 5.1
Languages:
English, German, Czech, French, Korean, Portuguese, Russian, Spanish, Telugu, Others
Screened at

0

dome theaters and counting...
Reviews
No reviews available.
Be the first to review this show!