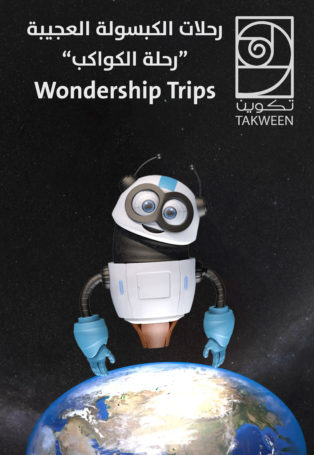 Download High Resolution Poster
Wondership Trips
Wondership Trips is a magical ship that can travel in space and time from macro-space down to deep inside the human body's cells, thanks to Takbot's guidance.
Description
This 17-min show takes you into a journey through the Solar System. Takbot, your tour guide, will help you in the journey taking you from one planet to another – while also exploring our Moon and its phases.
Takbot will also explain how astronauts work and will take you to some satellites too!
Distributors
You can get this show from:
Show details
Shorter version runtime
(if any)
:
not available
Full version runtime:
17 minutes
Suitable for:
General audience
Target audience:
6 - 13, 14 - 18, Adults
Resource & materials:
Guide for educators, Poster, Source files
Technical specifications
Video format:
Fulldome, Spherical mirror projection
Show orientation:
Unidirectional
Production technologies:
CG, Still photography
Languages:
English, Arabic
Credits
Director
Producer
Screened at

0

dome theaters and counting...
Reviews
No reviews available.
Be the first to review this show!