Ryan Moore
North Hollywood, USA
Executive Director of Dome Fest West
About me
Ryan Moore is the founder of Dome Fest West, Los Angeles's first Fulldome film festival. Before that, he started Experience 360°, a Burbank-based Virtual Experience Design Studio that has been creating branded and narrative immersive content since 2015. Making an early mark on the VR scene, Ryan produced Experience 360°'s first immersive feature Speed Kills VR, starring John Travolta. Continue his feature-length immersive work, in 2019 Ryan worked with 5-time Emmy winner Maranatha Hay to produce the groundbreaking narrative fulldome documentary feature, Indirect Actions. Mr. Moore's career within film production experience includes experimental branded content (Disney, Toyota, Cosmopolitan, GoPro), TV commercials (Pepsi, Jack In The Box, Tropicana), music festival coverage (Fuse Media), and Reality TV (Bachelor/Bachelorette).
My Shows
Director, Producer
My News & Articles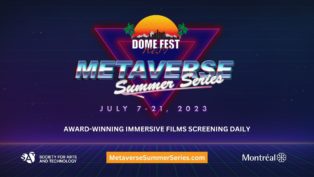 The event running online from July 7-21 will showcase independent fulldome films from around the world, with daily Q&A sessions featuring filmmakers.
Dome Fest West is excited to announce new dates for the 2022 in-person event. The festival will be pushed back a week to now take place October 6-9, 2022.
Dome Fest West officially opens submissions for the 2022 festival competition! Have your fulldome projects included by submitting them today!