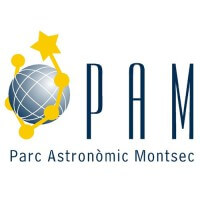 Description
UPDATE: the event planned for this year has been cancelled.
This workshop will take place from 15th to 19th of June 2015. This is the second of the serie started in 2014. The venue will be in Montsec Mountains (Lleida province, SPAIN). Montsec is one of the darkest regions in southern Europe and it has been certified as a Starlight Reserve. In the middle of this mountain range there is Parc Astronomic Montsec (www.parcastronomic.cat) with its outreach center called Centre d'Observació de l'Universe (Universe Observing Center) equipped with The Eye of Montsec planetarium.
This workshop is oriented to planetarium people related to creation and development of live shows in the dome.
Event details
Organizer(s):
Parc Astronomic Montsec
Phone:
Venue:
Parc Astronomic Montsec
Address:
Parc Astronomic Montsec 25691 Ager Lleida Spain
Postal code:
City:
People attending the event