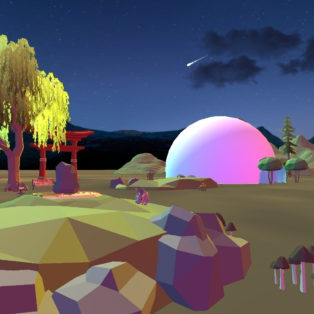 Domensions Camp at BRCvr This Week Only!
Everywhere, USA
Join us this week on the BRCvr playa, an official Burning Man metaverse. Domensions includes five themed art domes surrounded by a central fire pit. Come play!
Start date:
August 30
2021
End date:
September 05
2021
Description
Domensions is a place of connection, play, contemplation and immersive art exploration. Five themed art domes surround a central fire pit that features ceremonies, salons and spontaneous community circles. The Events Dome includes DJ parties and more. The Mesmerica Dome presents a mood-elevating 360 experience by musician James Hood. The Chillout Dome offers guided meditations and 24/7 sound bath experiences with immersive visuals. The CineSphere screens fulldome art films from around the world and the Eye Poet Dome is a poetry and art gallery curated by immersive artist and animator Audri Phillips.
The fidelity of avatars in Altspace is low to optimize real-time render speed and the resolution of the dome films we are screening had to be lowered substantially to accommodate all the avatars and video streams. Hopefully it runs ok when 50 people come into the world!
You can join using a Mac (beta), PC or most VR headsets. Here is an easy guide for creating an account on AltspaceVR.
https://docs.microsoft.com/en-us/windows/mixed-reality/altspace-vr/getting-started/creating-and-linking-accounts
And here are instructions for how to use AltspaceVR including the secret hiding place for the Mac beta version.
There are a number of virtual platforms this year… check out Virtual Burn (click on the pulsing icons).
https://virtualburn.burningman.org/booth/
See you in the digital dust!
Event details
Venue:
Burning Man's BRCvr on the AltspaceVR platform (online)
Address:
BRCvr https://brcvr.org/about-brcvr/
People attending the event