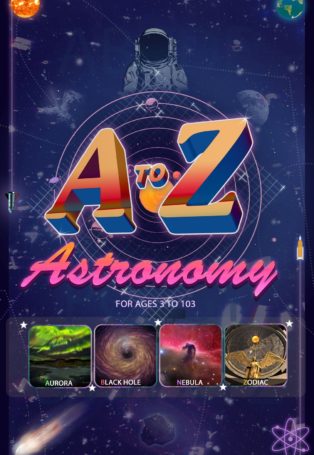 Download High Resolution Poster
A to Z Astronomy! For Ages 3 to 103
Explore space in this wild trek through the universe! It's great learning fun for everyone! Beware the wild roller coaster ride! :)
Release date:
November 2021
Description
Explore the depths of space in a wild ride through the universe!
Appealing to all ages, this family romp through the galaxies includes a roller coaster ride on our huge dome, a strange stop at a black hole by Mr. Shakespeare, a talking letter with a jelly-bean universe, and a trip to Egypt to explore hieroglyphs—the origins of our letters.
Don't miss any of our out-of-this-world ABC adventures! From the aurora to the zodiac, this alphabet voyage will leave you spinning for more.
A fulldome show for planetariums and digital dome theaters.
Distributors
You can get this show from:
Show details
Shorter version runtime
(if any)
:
not available
Full version runtime:
23 minutes
Suitable for:
General audience
Target audience:
0 - 5, 6 - 13, 14 - 18, Adults
License:
Traditional license
Resource & materials:
Guide for educators, Poster, Source files
Technical specifications
Show orientation:
Unidirectional
Production technologies:
CG, Live action
Credits
Director
Screened at

0

dome theaters and counting...
Reviews
No reviews available.
Be the first to review this show!