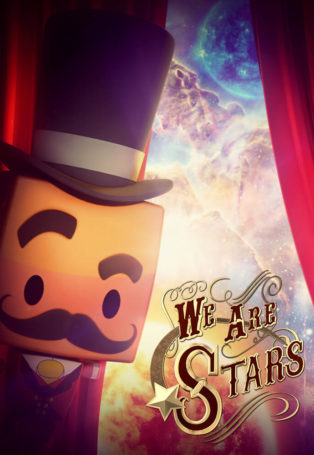 Download High Resolution Poster
We Are Stars
We Are Stars is a 26-min show produced by NSC Creative for planetariums and digital dome theatres. Info, trailer & full preview available.
Description
What are we made of? Where did it all come from?
Explore the secrets of our cosmic chemistry and our explosive origins. Connect life on Earth to the evolution of the Universe by following the formation of Hydrogen atoms to the synthesis of Carbon, and the molecules for life.
Narrated by Andy Serkis. For planetariums and digital dome theatres.
Distributors
You can get this show from:
NSC Creative
Sky-Skan
Sky-Skan Europe GmbH
Spitz Creative Media
Evans & Sutherland
Audio Visual Imagineering
Show details
Shorter version runtime
(if any)
:
not available
Full version runtime:
26 minutes
Suitable for:
General audience
Target audience:
6 - 13, 14 - 18, Adults
License:
Traditional license, Short-term license, Ticket share, Pay per view
Resource & materials:
Poster, Source files, DVD, Blu-Ray
Technical specifications
Video format:
Fulldome, Spherical mirror projection, Flat screen, Oculus Rift / VR devices
Resolution:
1K, 2K, 3K, 4K, 8K
Frame rate:
30 fps, 60 fps
Show orientation:
Unidirectional
Production technologies:
CG
Audio format:
Mono, Stereo, 5.1
Languages:
English, German, Dutch, French, Italian, Japanese, Russian, Spanish, Mandarin, Ukrainian
Credits
Producer
Soundtrack composer
Screened at

4

dome theaters and counting...
Reviews
No reviews available.
Be the first to review this show!