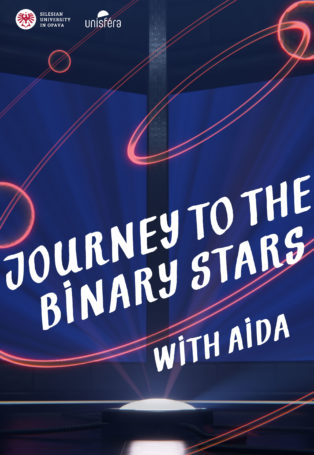 Download High Resolution Poster
Journey to the binary stars with AIDA
Join the journey of space travelers Ernest and Aida to find out why the binary stars hold such a major role in understanding the objects in the Universe.
Description
Binary stars have been observed by astronomers for centuries. What was not known at the time was that they were the key to understanding the nature of the behaviour of objects in the Universe.
Centuries of observation have led to the formulation of physical models that describe their behaviour. As space travellers Ernest and Aida approach the nearest binary star in our galaxy, the story of binary stars unfolds.
Distributors
You can get this show from:
Show details
Shorter version runtime
(if any)
:
not available
Full version runtime:
17 minutes
Suitable for:
General audience
Resource & materials:
Poster
Technical specifications
Show orientation:
Unidirectional
Production technologies:
CG
Languages:
English, Czech
Screened at

0

dome theaters and counting...