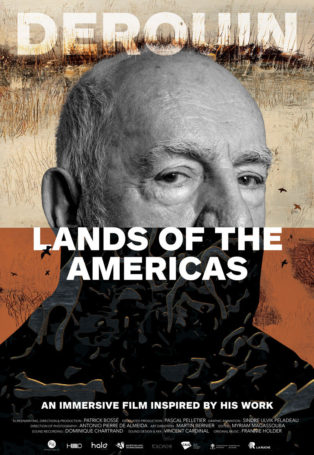 Download High Resolution Poster
Lands of the Americas
An art film and immersive documentary about the migrations, life, and works of lifelong artist René Derouin.
Awards
2022
USA
Official Selection
Macon Film Festival
2022
USA
Sphere of Light Award
Dome Fest West
2022
Germany
Official Selection
Fulldome Festival, Jena
2022
Canada
Official Selection
IMERSA
Description
Lands of the Americas, like a travel diary, journeys through the works of René Derouin and the lands he has explored, choreographed in 360-degrees. Experienced in an immersive dome, this 360 film revolves around the artist's identity quest that spanned his 60-year career.
The film's storyline links the creations of this multidisciplinary artist to the key areas of his migrations: from Quebec to Mexico, reaching Japan and the United States, passing through Canada's Far North, then returning to his homeland. Through mixed media and cinematography this virtual journey reveals the depth of Derouin's interior 'territories' and expands his art to the dome.
As an art film and experimental documentary, Lands of the Americas is an immersive experience which delves into the heart of Derouin's life work.
Distributors
You can get this show from:
Show details
Shorter version runtime
(if any)
:
not available
Full version runtime:
45 minutes
Suitable for:
General audience
License:
Traditional license, Short-term license, Ticket share, Pay per view
Resource & materials:
Poster
Technical specifications
Video format:
Fulldome, Oculus Rift / VR devices
Show orientation:
Panoramic
Production technologies:
CG, Live action, Still photography, Stop motion, Time-lapse photography
Languages:
English, French
Screened at

1

dome theaters and counting...