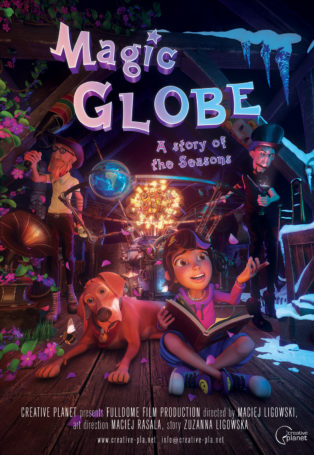 Download High Resolution Poster
Magic Globe
Best-selling show for kids aged 5-12. The show receives magnificent reviews from planetarians and audiences for its story, visuals, and educational content.
Release date:
October 2020
Awards
2021
China
Best Creativity Award
Beijing International Fulldome Festival 2021
2021
Russia
Best Storytelling
Reflections of the Universe
2021
Czech Republic
Director's Award
Brno Fulldome Festival
2021
Belarus
Grand Prix Award
MIFF 2021
Description
Best-selling show for kids aged 5-12. The show receives magnificent reviews from planetarians and audiences for its story, visuals, and learning content. It filled up multiple planetariums to their record-breaking attendance numbers. Do not miss reading the User Reviews section below. The show has the biggest number of 5-star reviews on FDDB!
The movie is available in two lengths (28 and 38 minutes) and multiple language versions, all included in a single license. It is available up to Fulldome 8K 3D. Its stunning visuals have been created by the artists involved in such well-received Fulldome productions as "Dream to Fly," "Hello Earth," and "Explore."
The marketing package consists of a variety of items:
– High-resolution movie poster
– Still Fulldome and HD images rendered for promotional purposes (without Motion Blur)
– Beautiful Standing characters to be printed on foam boards
– Teachers Guide
– Fulldome and HD Trailer (3 minutes long)
– Well-received set of Fulldome Assets to create live shows in the setting of Magic Globe
"Magic Globe" is an engaging story designed to interest and challenge children from 5 to 12 years old. It has a clear educational structure, with all science-related topics broken down into manageable chunks and naturally woven into the storyline. It allows children to recap knowledge they already have as well as learn multiple new concepts while following the story, which makes it perfect for mixed-ability audiences.
The story:
On vacation at her grandpa's, a little girl named Mia accidentally discovers a mysterious piece of astronomical machinery. Edmund, Mia's eccentric uncle, tricks the girl into using the tool's secret powers to change the world's seasons. She realizes the consequences of what they are going to do, but Edmund doesn't want to let the plan go.
Distributors
You can get this show from:
Creative Planet
REQUEST PRICING
DELTA Sp.J. Krentowski, Hus
METASPACE
Evans & Sutherland
Spitz Creative Media
Audio Visual Imagineering
RSA Cosmos
Reef Distribution
Creative Planet
Show details
Shorter version runtime
(if any)
:
28 minutes
Full version runtime:
38 minutes
Suitable for:
General audience
Target audience:
6 - 13, 14 - 18
License:
Traditional license
Resource & materials:
Guide for educators, Poster
Technical specifications
Video format:
Fulldome, Spherical mirror projection, Flat screen
Resolution:
1K, 2K, 3K, 4K, 8K
Show orientation:
Unidirectional
Production technologies:
CG
Audio format:
Stereo, 5.1
Languages:
English, German, Cantonese, Chinese, Czech, French, Japanese, Korean, Polish, Mandarin, Ukrainian, Estonian, Chinese (Mandarin)
Screened at

33

dome theaters and counting...