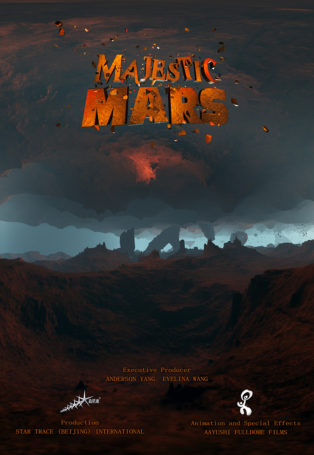 Download High Resolution Poster
Majestic Mars - a fictional roller-coaster ride!
Experience the fun filled fictional ride of a long-lost Martian civilization with Majestic Mars.
Release date:
January 2023
Produced by:
Directed by:
Description
Experience the grandeur of a long-lost Martian civilization with Majestic Mars.
This computer-generated ride takes you back in time to explore the ruins of ancient temples and pyramids, filled with intricate carvings and statues that reveal the society's gods and leaders.
Marvel at the advanced technology of the civilization, including flying and levitating machinery. Join us for a journey through the science fiction concept of an ancient Martian civilization and be transported through time to an era long gone.
Distributors
You can get this show from:
Show details
Shorter version runtime
(if any)
:
not available
Full version runtime:
9 minutes
Suitable for:
General audience
License:
Traditional license
Resource & materials:
Poster
Technical specifications
Video format:
Fulldome, Spherical mirror projection, Giant screen film transfer, Flat screen, Oculus Rift / VR devices
Resolution:
1K, 2K, 3K, 4K, 8K
Show orientation:
Unidirectional
Production technologies:
CG
Audio format:
Stereo, 5.1
Screened at

0

dome theaters and counting...
Reviews
No reviews available.
Be the first to review this show!