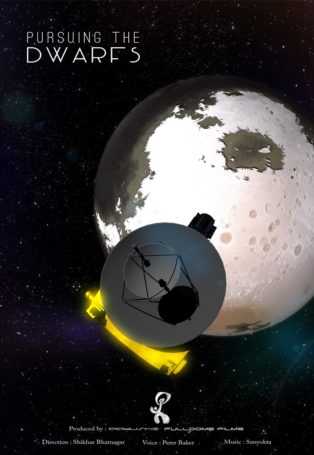 Download High Resolution Poster
Pursuing the Dwarfs
Pursuing the Dwarfs is a 15-min show produced by Aayushi FullDome Films for planetariums and digital dome theatres. Info, trailer & full preview available.
Description
The Categorization of Dwarf Planets sets the world in two parts… one who loved Pluto as planet and the others who preferred simpler cataloging of celestial bodies …
Dwarf planets are the worlds too small to be considered as full-fledged planets, but large enough to be classified as Asteroids.
These are the Ancient Relics of our Solar System.
They were born the same way as our Eight Planets, but somehow along the way, they stopped developing further.
These Embryonic Planets holds the key to the secrets of Planetary Evolution.
Today 5 small bodies fits the category of Dwarf Planets, but there are more waiting to join the list.
Our advanced probes like 'New Horizon' and 'Dawn' are seeking the unknown.
Lets take a glimpse of the wee class of Dwarf Planets in our Full Dome Show 'Pursuing the Dwarfs'
Distributors
You can get this show from:
Aayushi FullDome Films
Emerald™ digital planetariums
Fulldome.pro
RSA Cosmos
Altair Digital
Altair Digital
Show details
Shorter version runtime
(if any)
:
not available
Full version runtime:
15 minutes
Suitable for:
General audience
Target audience:
6 - 13, 14 - 18, Adults
License:
Traditional license, Pay per view
Resource & materials:
Poster, Source files, Blu-Ray
Technical specifications
Video format:
Fulldome, Spherical mirror projection, Flat screen
Resolution:
1K, 2K, 3K, 4K, 8K
Frame rate:
24 fps, 25 fps, 29.97 fps, 30 fps, 60 fps
Show orientation:
Panoramic
Production technologies:
CG
Audio format:
Mono, Stereo, 5.1, 7.1
Languages:
English, Brazilian, Chinese, French, Hindi, Turkish, Others
Credits
Director
Screened at

0

dome theaters and counting...
Reviews
No reviews available.
Be the first to review this show!