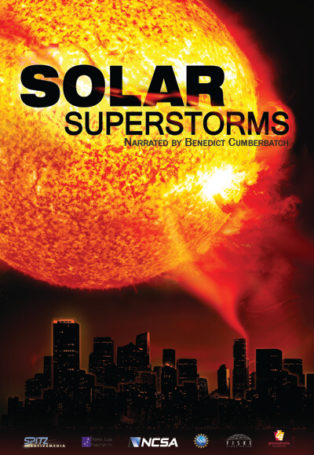 Download High Resolution Poster
Solar Superstorms
Solar Superstorms is a 24-min show produced by Advanced Visualization Lab at the National Center for Supercomputing Applications for planetariums and digital dome theatres. Info, trailer & full preview available.
Awards
2015
Espinho
Honorable Mention
Espinho Fulldome Festival
2016
Jena
Honorable Mention
Jena Fulldome Festival
2016
Brno
Audience Award for Best Movie
IPS Brno Fulldome Festival
2016
Republic of South Korea
Official Selection
Gwacheon IFF
2017
Sibiu, Romania
Official Selection
ASTRA Film Festival
2018
USA
Official Selection
Macon Film Festival
2018
Beijing, China
Annual Dome Film Award
Beijing International Science and Technology Film Festival
Description
A fury is building on the surface of the Sun – high-velocity jets, a fiery tsunami wave that reaches 100,000 kilometers high, rising loops of electrified gas. What's driving these strange phenomena? How will they affect planet Earth? Find the answers as we venture into the seething interior of our star.
Solar Superstorms is a major new production that takes viewers into the tangle of magnetic fields and superhot plasma that vent the Sun's rage in dramatic flares, violent solar tornadoes, and the largest eruptions in the solar system: Coronal Mass Ejections.
The show features one of the most intensive efforts ever made to visualize the inner workings of the sun, including a series of groundbreaking scientific visualizations computed on the giant new supercomputing initiative, Blue Waters, based at the National Center for Supercomputing Applications (NCSA), University of Illinois.
Brace yourself for the onslaught of the next… Solar Superstorm.
A co-production of Spitz Creative Media, NCSA's Advanced Visualization Lab, and Thomas Lucas Productions, Inc., in association with the Fiske Planetarium at the University of Colorado (Boulder).
This project has been made possible with support from the Commonwealth of Pennsylvania and the Pennsylvania Film Office, and with funding by the National Science Foundation.
Running time: 24 minutes
Solar Superstorms explores related content including:
The Earth-Sun relationship
Importance of magnetic fields in space
The nature of polar auroras
Space weather and the threat to communications and power networks
Monitoring solar behavior
Now playing in 15 countries, in 10+ languages.
Distributors
You can get this show from:
Spitz Creative Media
Evans & Sutherland
Show details
Shorter version runtime
(if any)
:
not available
Full version runtime:
24 minutes
Suitable for:
General audience
Target audience:
14 - 18, Adults
License:
Traditional license, Ticket share
Resource & materials:
Guide for educators, Poster
Technical specifications
Video format:
Fulldome, Spherical mirror projection
Resolution:
1K, 2K, 3K, 4K
Show orientation:
Unidirectional
Production technologies:
CG, Green screen, Live action, Time-lapse photography
Audio format:
Stereo, 5.1
Languages:
English, German, Arabic, Chinese, Czech, Dutch, French, Japanese, Korean, Spanish
Credits
Producer
Screened at

0

dome theaters and counting...