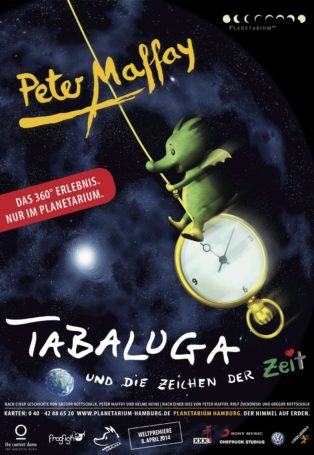 Download High Resolution Poster
TABALUGA and the Signs of the Times
TABALUGA and the Signs of the Times is a 61-min show produced by the content dome GmbH for planetariums and digital dome theatres.
Awards
2014
Jena
Directors Award
Fulldome Festival
Description
The show is available in German only. The international version is currently in production and will be posted as soon as it becomes available.
Imagine if you woke up one morning and you would have lost time. It was gone! Vanished! Simply nowhere to be found!
That is just what happens to TABALUGA, the little green dragon at the beginning of his new adventure: The alarm clock that wakes him up on time every morning falls on the floor and the hands stop dead. Of course TABALUGA thinks that time has stood still!
But little by little he learns better…on a poetic, yet adventureous journey to magical places on his planet and dreamworlds in space, in order to discover the nature of time and it´s relevance for us beings on Earth.
Based on a Musical, this show contains 10 songs by Germany´s most successful Rock-Artist Peter Maffay.
Distributors
You can get this show from:
Show details
Shorter version runtime
(if any)
:
not available
Full version runtime:
61 minutes
Suitable for:
General audience
Target audience:
6 - 13, Adults
License:
Traditional license, Ticket share
Resource & materials:
Guide for educators, Poster, Source files, Gadgets
Technical specifications
Show orientation:
Unidirectional
Production technologies:
CG
Audio format:
Stereo, 5.1, 7.1
Credits
Producer
Screened at

18

dome theaters and counting...
Reviews
No reviews available.
Be the first to review this show!