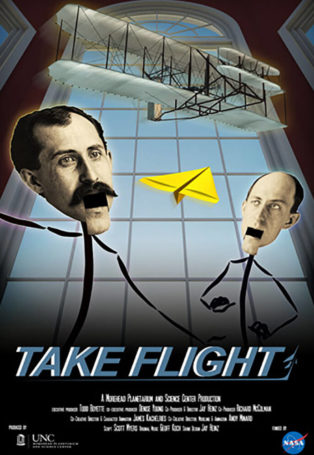 Download High Resolution Poster
Take Flight
Take Flight is a 22-min show produced by Morehead Planetarium and Science Center for planetariums and digital dome theatres. Info, trailer & full preview available.
Release date:
February 2016
Awards
2016
Jena, Germany
Honorable Mention
Jena Fulldome Festival
Description
Join uniquely-animated brothers Wilbur and Orville Wright for a full-throttle fulldome adventure through the history and into the future of aeronautics!
Learn about the four forces of flight — lift, weight, thrust and drag — with demonstrations by the Wright brothers and share observations and discoveries with Leonardo da Vinci as he creates his "flying machine." Along the way, you'll meet Bessie Coleman, the first woman of African American and Native American descent to earn an aviation pilot's license; break the sound barrier with Chuck Yeager; and take an exhilarating flight across the Atlantic Ocean with Amelia Earhart. Will you become a famous aviator? Take Flight could be your first step!
For planetariums and digital dome theaters.
Distributors
You can get this show from:
Spitz Creative Media
Audio Visual Imagineering
Show details
Shorter version runtime
(if any)
:
not available
Full version runtime:
22 minutes
Suitable for:
General audience
License:
Traditional license
Resource & materials:
Guide for educators, Poster, Source files
Technical specifications
Resolution:
1K, 2K, 3K, 4K
Show orientation:
Unidirectional
Production technologies:
CG
Audio format:
Stereo, 5.1
Languages:
English, Spanish
Credits
Director
Producer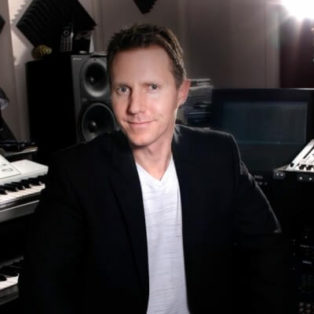 Soundtrack composer
3d designer
Screened at

0

dome theaters and counting...
Reviews
No reviews available.
Be the first to review this show!