PRODUCTIONS
EVENTS
FEATURED NEWS
JOB OPPORTUNITIES
TECHNOLOGIES
DOMES
TUTORIALS
Figment Dome Master to Flat Screen Tool is an After Effects Script to help you convert domemaster frames (fulldome content) into a "flat screen" 16:9 video.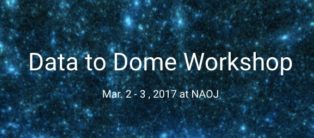 The IPS/NAOJ Data to Dome workshop will be live streamed for those who are unable to attend. The countdown has started!
Hello!
Welldome back to the
Fulldome world :)
11,262
Fulldome professionals
Welldome!
Join the Fulldome community.