Fulldome Domemaster Photoshop Actions Pack
The
Domemaster Photoshop Actions Pack
is a collection of custom Adobe Photoshop actions - written by Andrew Hazelden - designed to speed up the fulldome content creation workflow.
The actions provide tools for converting images from several common panoramic formats such as angular fisheye, equirectangular, and cube map panoramas, and general utilities for fulldome production.
The Domemaster Photoshop Actions Pack is compatible with Photoshop CS3 to CS6 on both Mac and Windows.
Action List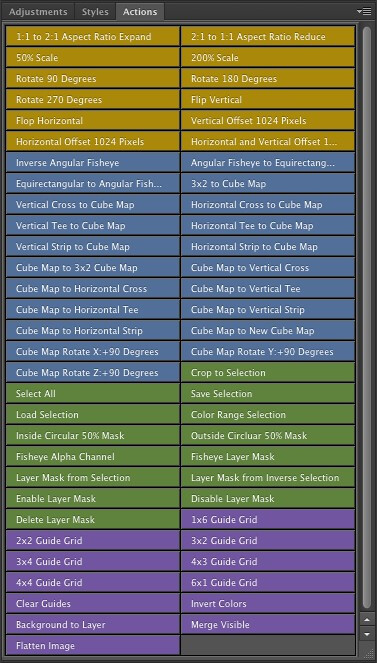 Transforms:
1:1 to 2:1 Aspect Ratio Expand
2:1 to 1:1 Aspect Ratio Reduce
50% Scale
200% Scale
Rotate 90 Degrees
Rotate 180 Degrees
Rotate 270 Degrees
Flip Vertical
Flop Horizontal
Horizontal Offset 1024 pixels
Vertical Offset 1024 pixels
Horizontal and Vertical Offset 1024 pixels
Conversions
Inverse Angular Fisheye
Angular Fisheye to Equirectangular
Equirectangular to Angular Fisheye
3x2 to Cube Map
Vertical Cross to Cube Map
Horizontal Cross to Cube Map
Vertical Tee to Cube Map
Horizontal Tee to Cube Map
Vertical Strip to Cube Map
Horizontal Strip to Cube Map
Cube Map to 3x2 Cube Map
Cube Map to Vertical Cross
Cube Map to Horizontal Cross
Cube Map to Vertical Tee
Cube Map to Horizontal Tee
Cube Map to Vertical Strip
Cube Map to Horizontal Strip
Cube Map to New Cube Map
Cube Map Rotate X:+90 Degrees
Cube Map Rotate Y:+90 Degrees
Cube Map Rotate Z:+90 Degrees
Masking and Selection:
Crop to Selection
Select All
Save Selection
Load Selection
Color Range Selection
Inside Circular 50% Mask
Outside Circular 50% Mask
Fisheye Alpha Channel
Fisheye Layer Mask
Layer Mask from Selection
Layer Mask from Inverse Selection
Enable Layer Mask
Disable Layer Mask
Delete Layer Mask
General Utilities:
1x6 Guide Grid
2x2 Guide Grid
3x2 Guide Grid
3x4 Guide Grid
4x3 Guide Grid
4x4 Guide Grid
6x1 Guide Grid
Clear Guides
Invert Colors
Background to Layer
Merge Visible
Flatten Image
At this point in time the Domemaster Photoshop Actions Pack doesn't support spherical mirror image conversions. That type of conversion would require a Photoshop plugin to perform the warping and isn't something that could be implemented as a pure .atn action file.
Learn more about this actions pack at Andrew's
blog
.
Have you liked this post? Subscribe to FDDB Newsletter
Comments
This is a friendly community,
be nice
Don't be too commercial,
nor spammy
Start the experience!
Not yet registered?
Sign up now, it's free!