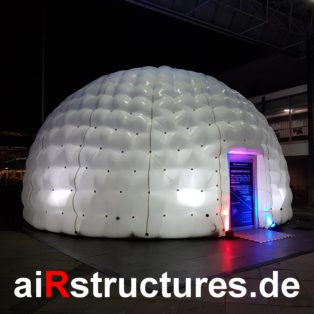 aiRstructures.de
Schinkel, Kiel, Germany
Dome Theatre
Industry Association
Fulldome Vendor
Mobile Fulldome - Mobile Planetariums - Rental in Europe - Sale - Construction - Inflatables & Geodesic Domes - Projection Technology - Software - Sound
Description
We have mobile domes of different sizes for rent in Europe.
Our largest dome, the InfinityDome has a screen diameter of 15.50 m and a capacity of 120 visitors on chairs / deckchairs. The dome is approved for 200 people.
It is equipped with a 4K five-projector system and a 16.4 spatial sound system.
We develop, produce and sell immersive systems with 360° dome projection of the highest quality.
We are specialists in inflatables, which we have been designing and producing for more than 30 years.
For some time we have also been offering immersive systems based on geodesic domes.
Our offer also includes the projection system – projectors, computers, software – the sound system – and also lighting and control.
People working at
aiRstructures.de
Director
Contact details
Address:
Raiffeisenstrasse 2