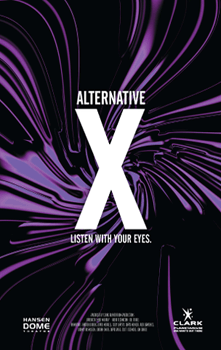 Download High Resolution Poster
Alternative X
Alternative X is a 50-min show produced by Clark Planetarium Productions for planetariums and digital dome theatres. Info, trailer & full preview available.
Release date:
November -0001
Directed by:
Description
Alternative X features a dome video library to accompany some of the most popular alternative, progressive and modern rock music.
The Library of both playback and recorded real time content can be played to bands like Tool, Muse, Audioslave, Nine Inch Nails, Modest Mouse, Smashing Pumpkins, Red Hot Chili Peppers, 311 and Beck.
The show is designed so bands and song selections can change over time, allowing audiences to interact with the show performers and influence the musical direction of each show. Or, the songlist can just be changed from time to time by the presenters.
NOTE: Music performance licenses are the responsibility of the performing institution.
Distributors
You can get this show from:
Clark Planetarium Productions
Show details
Shorter version runtime
(if any)
:
not available
Full version runtime:
50 minutes
Suitable for:
General audience
Target audience:
License:
Resource & materials:
Technical specifications
Production technologies:
Audio format:
Screened at

0

dome theaters and counting...
Reviews
No reviews available.
Be the first to review this show!